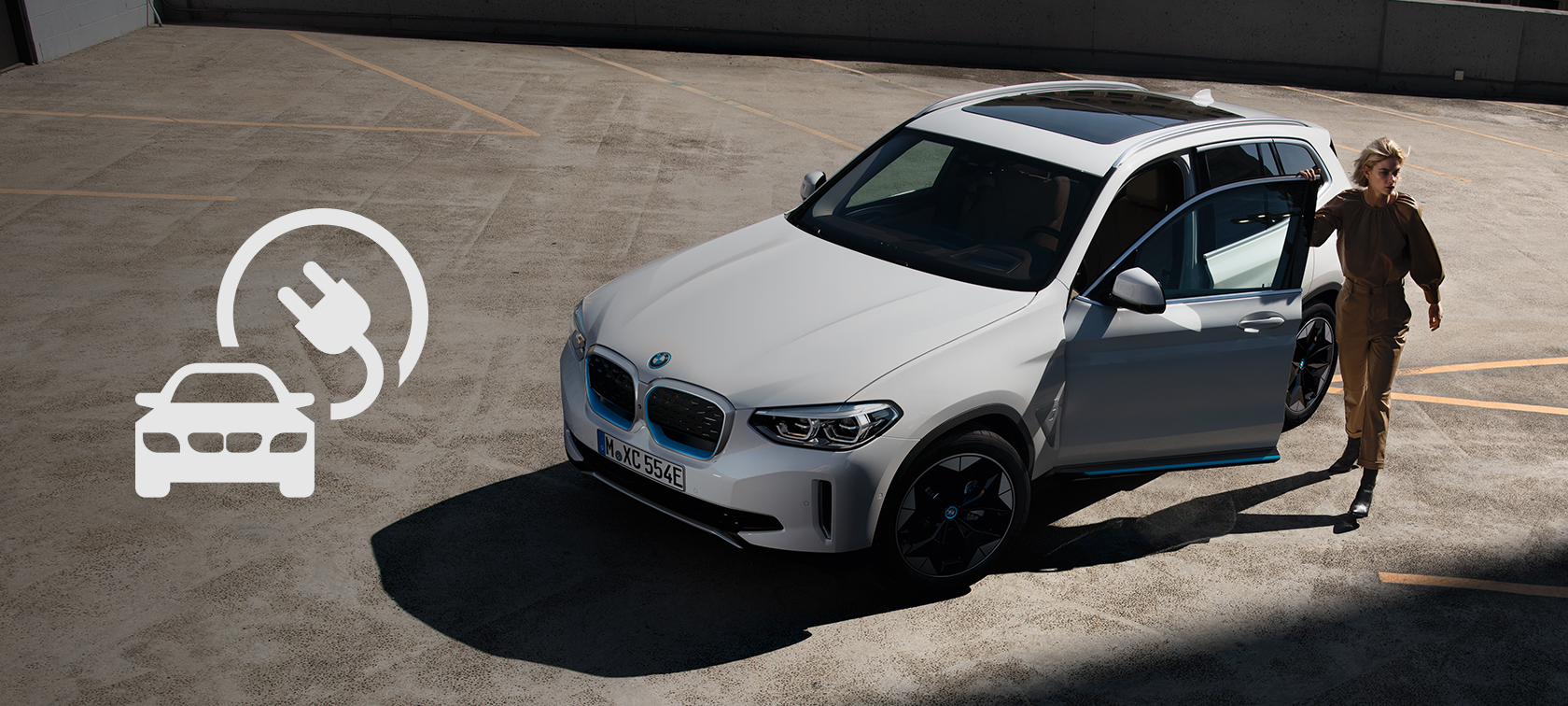 FAQ: THE MOST IMPORTANT QUESTIONS AND ANSWERS ON OUR ELECTRIC CARS.
What is an electric car?

A purely electric car (BEV, Battery Electric Vehicle) drives exclusively with electricity. It therefore has no combustion engine to power the vehicle. The electricity is stored in a battery. Its capacity determines the range of the e-car, in other words the distance that can be covered with one battery charge.
Many drivers worry about the range – in most cases such worries are unfounded. After all, most BEVs today have a range of more than 250 kilometres. And, in any case, 90% of drivers in Germany for example travel less than 100 kilometres per day.
Purely electric cars are ideal for users who can charge electric cars at work or at home. At the same time, the extension of the public charging infrastructure is being pursued intensively. New charging stations are therefore appearing all the time in urban areas and along motorways. In the future, long-distance journeys will become easier and easier as a result.


What advantages does an electric car have?

An electric car offers an entirely new, emotionally charged driving sensation. Thanks to the torque available from a stand-still, you experience fascinating electric dynamics and spontaneous acceleration. At the same time, the almost silent electric engine gives you a new and relaxed driving experience.
When actually driving, a BEV is also emission-free (the term also used is "locally") and thus offers maximum protection for our environment.
Additional benefits of BEVs are the highest category of country-specific subsidies and tax incentives that they entail.


What factors affect the performance of the high-voltage battery in my electric car?

One important external factor influencing the performance and capacity of a battery is the temperature. As you probably know from your mobile phone battery, the performance is restricted in cold and hot temperatures. In your vehicle, however, this temperature influence is largely minimised by means of optimised operating strategies. And did you know that the capacity of the storage system also yields information on the range you may have? Apart from temperature, other factors affecting the range are energy consumers, such as the air conditioning, the load carried and your driving style.

How does my driving style affect the range of my electric car?

As is the case for a vehicle with a conventional combustion system, driving style also affects the range of an electric car. As a general rule, an anticipatory, relaxed and consistent driving style optimises your range. If, for example, you reduce your speed on the motorway, you can noticeably increase your range as a result. During recuperation, that means whenever you lift your foot from the accelerator pedal, kinetic energy is converted into electrical energy and fed into the battery – and you gain further kilometres in range.

What do I have to consider if my electric car is left standing still or parked for a longer period of time?

If you leave your vehicle parked for a longer period, such as during your holiday, try and maintain a charge level between 30% and 50% and leave your vehicle in a cool or shady place during the summer and in a garage during the winter. In addition, the vehicle should not be left plugged in for charging when stationary for longer periods of time.
BMW 전기차: BORN ELECTRIC.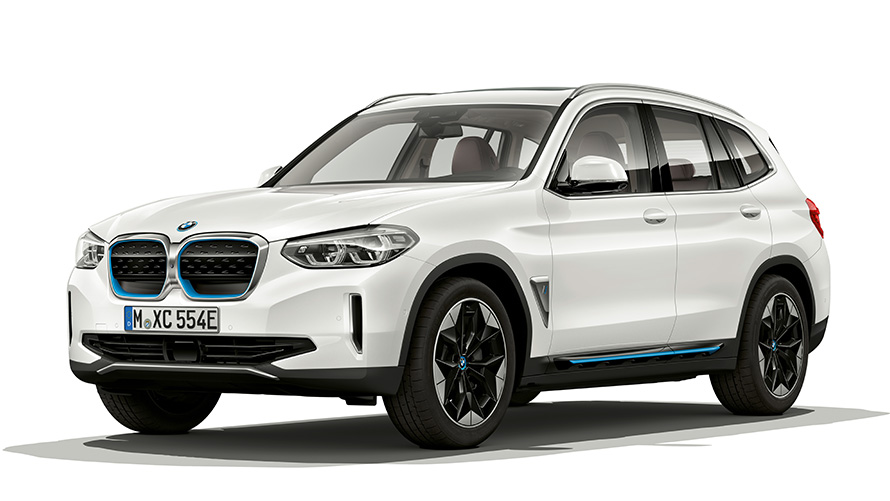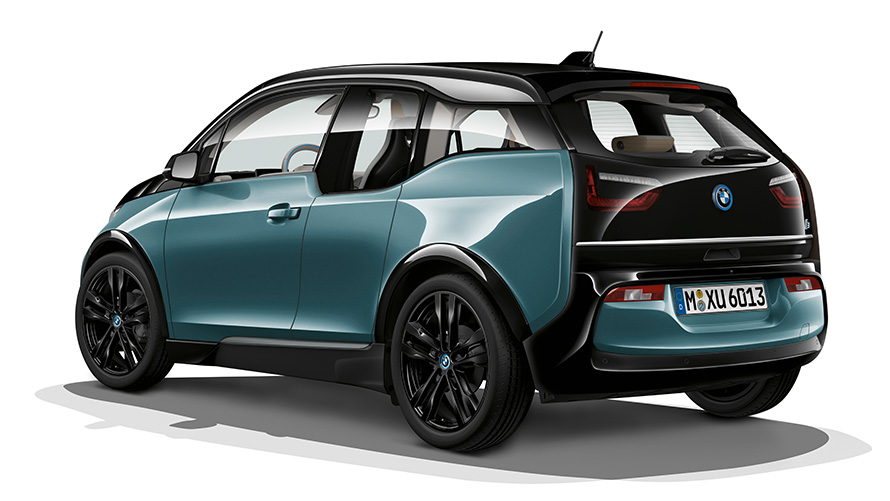 BMW iX.
비전에서 시작해, e-모빌리티를 위해 탄생한 BMW iX. 효율적인 BMW eDrive 기술과 전기 4륜 구동으로 뛰어난 주행 가능 거리와 탁월한 정지 상태 가속 능력이 완성됐습니다. 절제된 디자인 언어는 현대적이면서 독보적인 외관을 완성합니다. 동시에 넉넉한 공간감의 실내가 자랑하는 고급스러운 분위기와 지속 가능성이 만들어내는 최고의 승차감을 5개 전 좌석에서 만끽할 수 있습니다. 움직이는 나만의 즐거운 공간, BMW iX를 만나보세요.
BMW iX3.
BMX iX3가 배출가스 없는 드라이빙을 새롭게 정의합니다. 5세대 BMW eDrive 기술을 탑재한 최초의 순수 전기 스포츠 액티비티 비히클, BMX iX3는 전기 엔진의 미래지향적 드라이브에 BMW X 라인의 다재다능한 기능성과 공간감, 뛰어난 드라이빙 다이내믹스와 탁월한 승차감을 결합했습니다. 다양한 주변 요인에 맞춰 제동 효과를 지능적으로 조절하여 가속 도중 에너지를 추가로 재생성하는 어댑티브 회생 제동 등의 혁신적 기술이 효율성을 더욱 높여줍니다.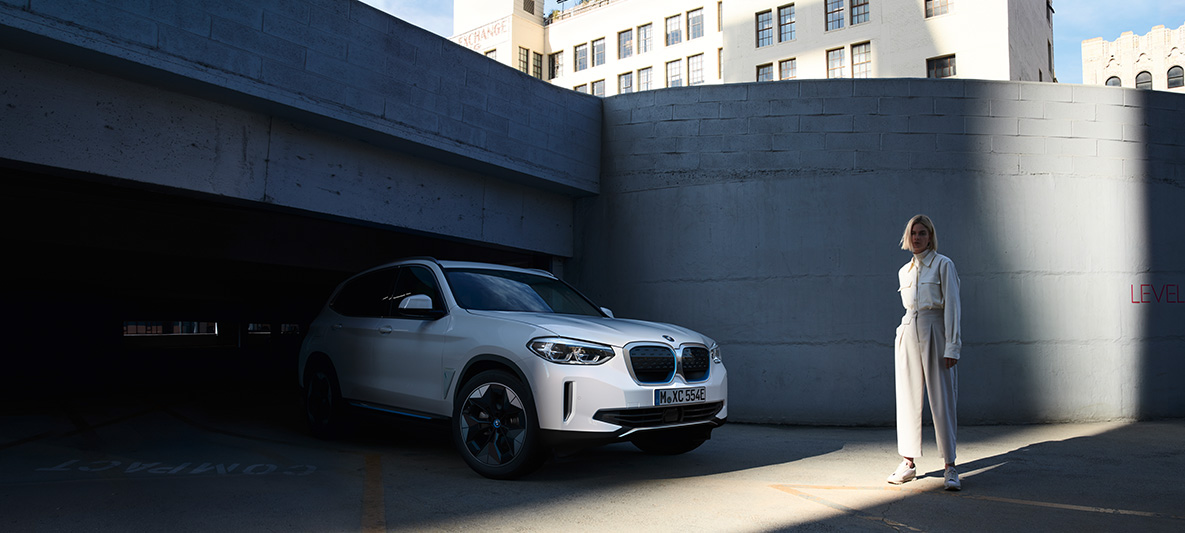 THE iX3: THE FIRST-EVER FULLY ELECTRIC BMW SPORTS ACTIVITY VEHICLE.
The BMW iX3 heralds a new era of electrified driving pleasure. Explore the first all-electric BMW SUV that combines the best of two worlds: the driving dynamics and premium quality of the BMW X3 with the performance and efficiency of the fifth-generation BMW eDrive technology.
100% CONNECTED. 100% COMFORT. 100% CONNECTED CHARGING.
All the information at a glance with the digital products from BMW Charging.
How far can I travel with my current charge level? Where's a charging station on my route? Our digital Connected Charging services and the BMW Intelligent Personal Assistant leave no such questions unanswered. Designed to ensure that driving and charging your BMW are as easy, self-explanatory and forward-looking as possible, the BMW Charging products and services supply all the information and answers that you need.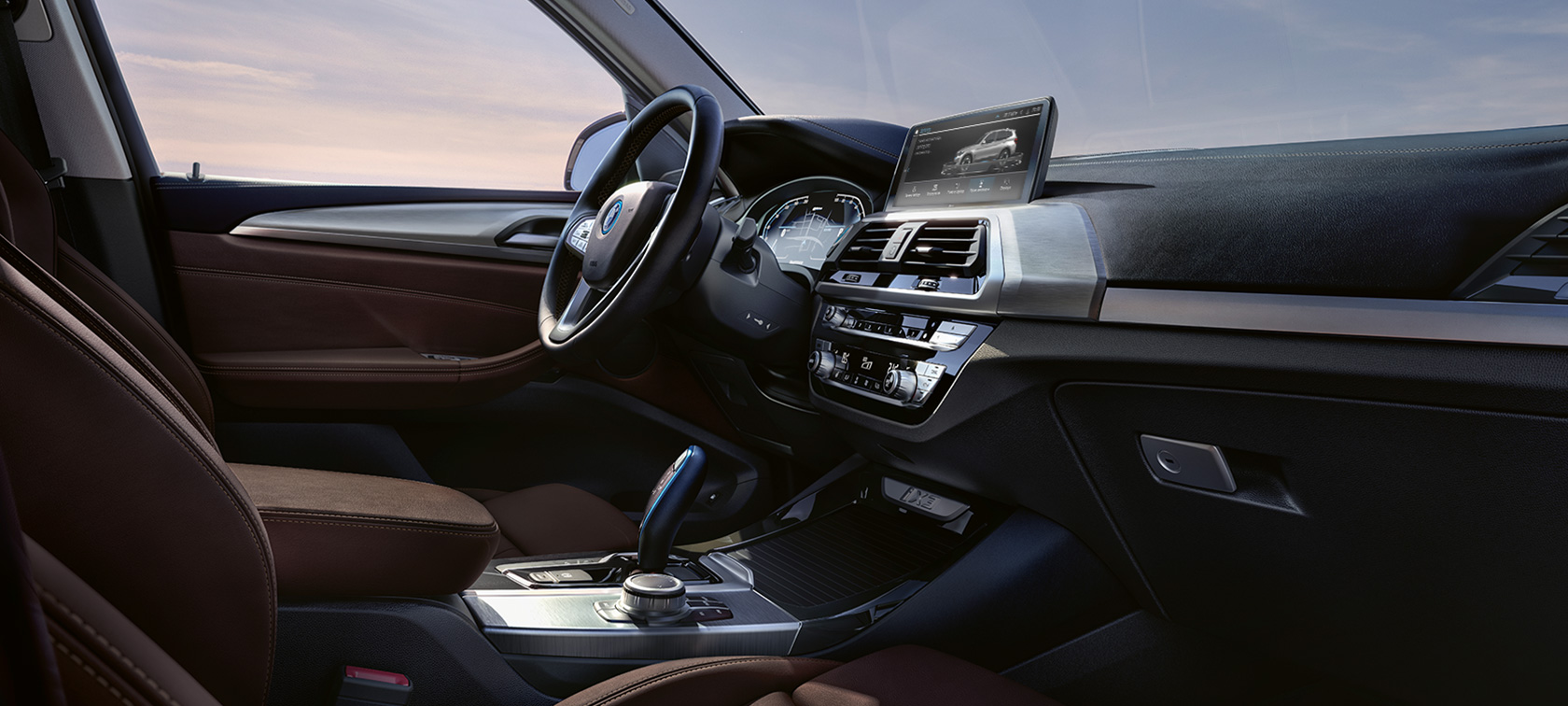 Connected Charging.
No more range anxiety: With the services of Connected Charging, you use the electric range of your BMW electric car optimally and efficiently. You are supported by a circular indication, which is displayed transparently on the map view. Using the Points of Interest search function, the system guides you unerringly to the nearest public charging stations on your route and informs you in advance about their availability and the charging currents offered. For longer journeys, the system suggests parking spaces with charging facilities for a recommended break. To get the most out of the charging time, you will also be shown nearby points of interest, such as a café or restaurant.
Discover ConnectedDrive
Planning your trip at home.
The only thing that you have to think about is your destination. Connected Charging and the My BMW App* take care of everything else. You can thus use your smartphone to virtually check the status of your electric vehicle before you set off on your journey: view the charge level and the available range, activate various functions such as the ventilation or analyse your charging history. *This requires the ConnectedDrive Services option and a compatible smartphone. The availability and functions of the My BMW App depend on the vehicle model and may vary according to the market. You will find detailed information at www.bmw.de.
On a trip with the BMW iX3
BMW Intelligent Personal Assistant.
'Hey BMW. Who are you?' Wouldn't it be incredible if your BMW was also your personal assistant? Communicate with your vehicle using the BMW Intelligent Personal Assistant. It knows you, gets better every day and helps out whatever the situation. You also can assign your own personal activation word. It can explain everything about your car and helps you to get to know your BMW even better. "Hey BMW, how can I increase my range?" – the BMW Intelligent Personal Assistant will also answer this and many other questions about your BMW electric car on demand.
Discover the BMW Intelligent Personal Assistant
BMW VISION iNEXT.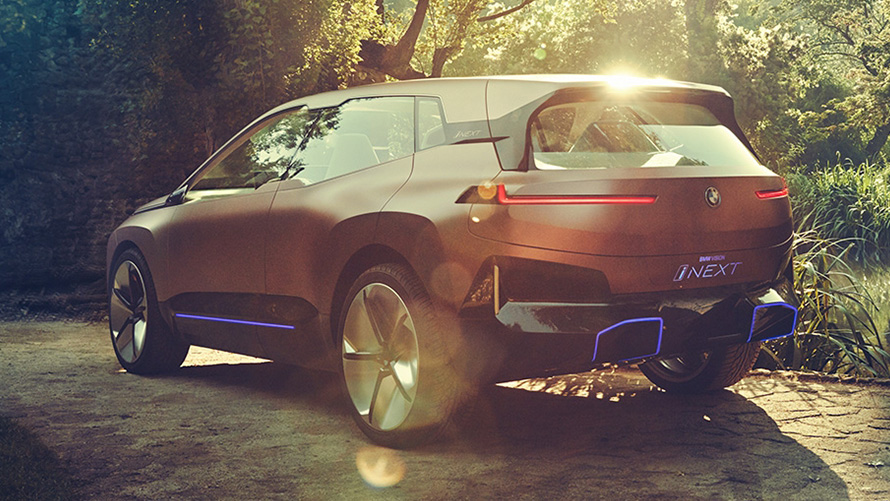 Individual mobility is on the verge of a new era. Topics such as autonomous driving, electrification and connectivity are giving rise to new adventures. The BMW Vision iNEXT is making a bold and positive statement for the future ahead. It drives purely electrically, with a high level of automation and enjoys full connectivity. When travelling in the BMW Vision iNEXT, drivers can choose between taking the controls themselves in "Boost" mode and being driven in "Ease" mode. Thanks to the electric drive, "Boost" mode is highly dynamic, almost silent and locally emission-free. The interior gains a completely different design and an entirely new status. The BMW Vision iNEXT becomes a place of relaxation, interaction, entertainment or concentration. This makes it increasingly possible to determine how the time during the ride is put to use. From 2021, the series production model will be appearing on the roads as the new technology flagship.
* 본 웹사이트에 기재된 내용이나 이미지들은 실제 국내 적용 사양과 상이할 수 있으며, 사전에 예고 없이 변경될 수 있습니다.
* 정확한 모델별 옵션 적용 사항은 가까운 BMW 공식 딜러 전시장에 문의하시기 바랍니다.

더 알아보기